Litobox®
The smartest 3m² in the house!
Think inside the box
The Litobox® combines a heat pump, solar boiler, PV system, battery storage, rainwater filtration, ventilation, electrical equipment and internet network in one unit.
All in 3m² and installed on site in under an hour! Is your building Litobox®-ready?
The Litobox® in detail
| | | | |
| --- | --- | --- | --- |
| Heat pump | | | |
| Multi-energy buffer | | | |
| Solar boiler | | | |
| Solar panels | | | |
| Battery storage | | | |
| Electrical cabinet and Internet-set-up | | | |
| Ventilation | | | |
| Rainwater filtration | | | |
| Shower heat recovery unit | | | |
| Insulation | | | |
| Quick Heat circuit | | | |
Heat pump
Multi-energy buffer
Solar boiler
Solar panels
Battery storage
Electrical cabinet and Internet-set-up
Ventilation
Rainwater filtration
Shower heat recovery unit
Insulation
Quick Heat circuit
Everyone needs a Litobox®!
The Litobox® soon turns every well insulated home into a zero energy home.Providing the highest level of comfort and convenience for the lowest energy cost.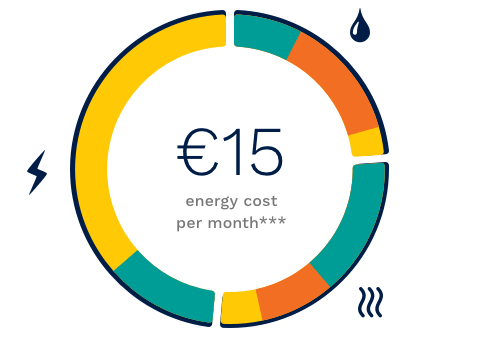 Solar boiler
Heat pump
Solar panels
Single-family dwelling
Every square metre counts. That's why the Litobox® is the ideal solution for adding carefree comfort and convenience to your home, as compactly as possible.
The Litobox® is a real EPB wonder: we make your home 2050-proof now! Together with your architect, work out a smart place to install your Litobox® in your home: this makes you save time and money.
Communal living
Communal living is the future. Not just multi-generational living ('kangaroo' living) but also cohousing projects are becoming more popular. These living arrangements also cut the cost of installing renewable technologies.
Up to 4 homes can be connected to each Litobox®². This reduces the cost of zero energy construction enormously!
Apartments
Making each apartment zero energy individually is virtually unaffordable. And a single, collective system is penalised under EBP regulations and requires specific skills in terms of design, construction and maintenance.
Up to 8 apartments or studios can be served by one Litobox®³ . Choose the Litobox®³ for your project: simple, quick and cheaper!
The Litobox² en Litobox³ can be equipped with MID-approved meters for simple billing of energy used. Meter readings can be taken online at any time, site visits are no longer required.